Asia is a continent in Pocket Trains, being unlocked through the purchase of a license. It covers mainland Asia (Russia, Southeast Asia, India, China), the Middle East (Iraq, Iran, UAE), and the many island nations around the area (Indonesia, Japan). This is an article that contains general info, tips, and lists related to Asia.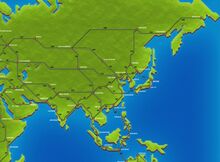 General Information
Edit
37 stations are located in Asia. Long lines connect them, which usually don't have much connection to nearby cities (i.e. Kabul, a route could easily be made to Karachi). Asia has a wide varity of biomes, from mountains and mesas to deserts and jungles. Due to the amount of cities and stations in Asia, it is advised for the player to save up more than 50,000 coins before purchasing the license, so they do not run out of money as soon as they buy the license so that they cannot pay for Asian stations. Standard, Freighter, and Zephry trains are best for Asia.
Tips and Strategies
Edit
Here is a list of tips and strategies related to Asia. Feel free to add some of your own!
As the largest continent, cities are either very spread out or super close together. Adapt to this by having a small amount of cities on a railroads with long lines and a large amount on railroads with small lines.
Asian Jobs can spawn for enormous amounts of coins! Make sure your stockyards are upgraded at junctions!
List of Stations
Edit
Here is a list of all stations in Asia by alphabetical order.
Amman
Anadyr
Baghdad
Bangalore
Bangkok
Beijing
Chengdu
Dubai
Hanoi
Harbin
Hong Kong
Jakarta
Kabul
Karachi
Kolkata
Kupang
Magadan
Manado
Manila
Mumbai
Nagasaki
New Delhi
Novosibirsk
Perm
Riyadh
Sendai
Seoul
Shanghai
Shenyang
Singapore
Tehran
Toyko
Ulaan Baatar
Urumqi
Vladivostok
Xi'an
Yakutsk
Community content is available under
CC-BY-SA
unless otherwise noted.