Awards, or achievements, are a feature in Pocket Trains. They give a reward for a feat accomplished in-game. Each one gives a different reward based on the difficulty of the task, but it will always be a special crate and 20 bux.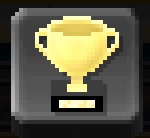 List of Available Awards
Category
Name
Description
Railroads
Tiny Tycoon
Operate 4 railroads
Train Empire
Operate 8 railroads
Steel Titan
Operate 12 railroads
Iron Fleet
Operate 16 railroads
Operation
Operation Europe
Service 13 cities in Europe
Operation Africa
Service 7 cities in Africa
Operation North America
Service 15 cities in North America
Operation Asia
Service 18 cities in Asia
Operation South America
Service 7 cities in South America
Operation Oceania
Service 6 cities in Oceania
Monopoly
Monopoly Europe
Service 26 cities in Europe
Monopoly Africa
Service 15 cities in Africa
Monopoly North America
Service 32 cities in North America
Monopoly Asia
Service 37 cities in Asia
Monopoly South America
Service 14 cities in South America
Monopoly Oceania
Service 12 cities in Oceania
Licenses
Fully Licensed
Obtain all 6 regional licenses
Daily Events
Starting Event
Complete 1 event
Current Event
Complete 10 events
Main Event
Complete 100 events
Train Sets
Steamer Set
Collect all 4 unique steamer engines
Express Set
Collect all 4 unique express engines
Standard Set
Collect all 4 unique standard engines
Zephyr Set
Collect all 4 unique zephyr engines
Freighter Set
Collect all 4 unique freighter engines
Hybrid Set
Collect all 4 unique hybrid engines
Community content is available under
CC-BY-SA
unless otherwise noted.