The Gila Standard is a train, part of the Standard Set. It is the fastest of the Standards, but has the least fuel capacity. The Gila is one of the first trains a player can get with a car capacity over 8 cars, as it has 12. The Gila Standard is painted grey with some red stripes. Like all the Standards, the Gila can have 2 Fuelcars and 3 engines. Each engine added increases the car capacity by 6 for a maximum amount of 24. However, each one needs the standard 10 parts per Standard train to make. This train is good for South America, Africa, or Asia, as all of those continents have long lines which are good for the Standards' large fuel capacity and relatively fast speed. The Gila Standard Features A Sluzzer Peak in Cotsworld Rail Livery Is The American F7 Diesel Locomotive No.7014 Which Was Built In 1901 and Preserved On The Campbeltown To Culcain Railway In Turkish.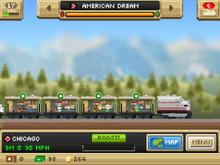 Like all Standard Trains, the Gila Standard Train Set Features A Cotsworld Sluzzer Peak Which is based on the EMD F7 Diesel engine In Cotsworld Rail Livery.
Community content is available under
CC-BY-SA
unless otherwise noted.