The Mallard is a streamlined steam train in Pocket Trains. It is unlocked after receiving 12 Mallard parts. It is a special train, which means its parts are only found in Special Crates. It can have 1200 fuel with a fuel car, although this is very hard to obtain. The Mallard is a pretty efficient train, with decent speed and medium to high fuel capacity. It can also hold 16 cars, which only increases the Mallard's effectiveness. These factors mean the Mallard is a good choice for a railroad in North America, South America, or southern Asia. A large railroad in Europe is also excellent, too.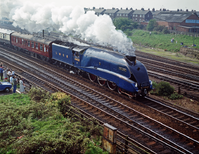 Trivia
On the side of the engine, there is a pixelated black and gold plaque. This is where the name Mallard was put on the engine.
The Mallard broke the speed record for the fastest steam train in 1938. It still holds this record today!

The Mallard is based on Sir Nigel Gresley's A4 class engine Mallard, that broke the world speed record in 1938, with 202km/h (roughly 126mph).

It used to require 7 parts to make but was changed to 12 for unknown reasons.