The smallest continent, Oceania is a continent in Pocket Trains. In real life, it includes Papua New Guiena, Australia, New Zealand, and the thousands of pacific islands, but in game, Oceania only covers Australia, New Zealand, and Papua New Guinea. It is available via purchase of the Oceania license. This article includes tips, strategies, and general info about the continent.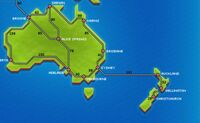 General Information
Everything about Oceania is small (except land area). It includes 13 stations, the least of any continent. Due to Oceania's small size, only 16 lines of track link to other cities. The continents Oceania is connected to is Asia and Africa, by the lines that go Kupang-Broome and Antananarivo-Perth. Only 3 countries in Oceania are in Pocket Trains, and those are Australia, New Zealand and Papua New Guinea.
Biomes in Oceania include the deserts of the "Outback", the river basins near the east coast of Australia and central New Zealand with rich pasture land, swamps, and forests, and a small amount of land that is tropical eucalyptus forest.
Large cities here in real life include Auckland, Sydney, Perth, Melbourne, Adelaide, and Brisbane. All of these are on the coast.
Tips and Strategies
Here is a list of tips and strategies about Oceania. Feel free to add some of your own!
Due to Oceania's small size, you can get away with only 2 railroads in the continent! This is the ideal amount, but 3 railroads is also good if you can have around half of the third in Asia.
Express, Standard, and Zephyr trains are best in Oceania due to small size (again), which means small lines. Freighters are okay but better for other continents due to their extreme amount of fuel capacity not needed for Oceania.
Probably only 1 or 2 stockyard upgrades are needed because only 1 or 2 cities will have multiple railroads connected to them (Once again, due to small size), even though many high paying jobs are found here.
List of Stations
Here is a list of all stations in Oceania by alphabetical order.
Adelaide
Alice Springs
Auckland
Brisbane
Broome
Cairns
Chirstchurch
Darwin
Melbourne
Perth 
Port Moresby 
Sydney
Wellington