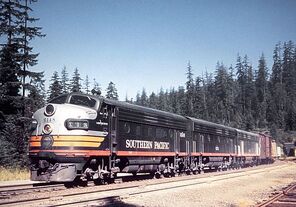 The Pecos Standard is a train in Pocket Trains. It is often called the best Standard train due it's a high speed and fuel capacity. This element is balanced out since the Pecos Standard is the only Standard train that requires 11 parts to make. Even though it is not as fast as the Gila, or has the fuel capacity of the San Juan. The Pecos still has the same, if not more, efficiency as all of the other Standard trains.
As with all Standards, the maximum amount of engines and fuel cars are 3 and 2, respectively. As a result, it is very difficult to make a maxed out Pecos Standard. However, a maxed out Pecos Standard is very powerful as it can transport 24 cars and have well over 1500 fuel capacity, making it desirable to obtain one. Due to these factors, the Pecos is a very efficient, profitable train. It also means the train is well-suited for a railroad in Africa, Asia, or South America, or an intercontinental railroad (i.e. Asia-Australia, Asia-Europe, North America- Europe, etc.) because of the already large fuel and car capacity.
Trivia
Like all Standard trains, the Pecos Standard is based off the American EMD F7 diesel. It ran along the U.S. Pacific coast. The paint job is based on the Southern Pacific's Black Widow from the late 1940s to late 1950s.