The
Petabyte Zephyr
is a
train
in Pocket Trains. It is part of the
Zephyr
series, the fastest of the set. At 123 MPH, it is the fastest non-
special
train. As with all Zephyr trains, it can hold 2
fuel
cars
. The Petabyte Zephyr has the least fuel capacity of all Zephyrs, although with all fuel cars, the train can have 1,080 fuel. The Petabyte is good for western
North America
,
Oceania
, or south
Asia
. The Set Contains a GNER Class 43 HST Power Car Unit No.43059.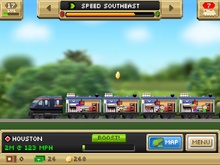 Trivia
The Petabyte Zephyr is very closely related to a British Intercity 125.
Like all Zephyr trains, the type name ends with the word "byte", referencing units of digital storage.
Zephyr trains are fast and, with fuel cars, have lots of fuel. As a result, they are essentially a complete upgrade of Express trains.
Even though the Zephyr trains are unlocked after Standard ones, Standard trains have better fuel and hauling capacities, giving them the chance to be more efficient than Zephyrs.

One feature of Zephyrs that's better than Standards is that Zephyrs have a higher base car capacity (14), although Zephyrs can only have 1 engine compared to a Standard' 3, effectively negating this issue.
The Petabyte Zephyr is only 3mph slower than the Bullet
Community content is available under
CC-BY-SA
unless otherwise noted.