The
Rio Grande Standard
is a Standard engine. It's base fuel is 600,
but can also be given two extra fuel cars, increasing the range to 1800. It is capable of having 2 extra engines added on, which can increase the car capacity to 24 (12+2x(50% Base Capacity)). The Rio Grande excels in delivering large amounts of cargo to a destination, and is great for daily event completion. Which Was Made On an F7 No.6395.
Like the other Standard engines, the Rio Grande is based on a EMD F7 diesel as Well as a Sluzzer Peak.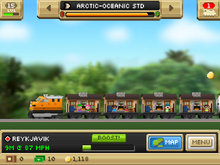 Community content is available under
CC-BY-SA
unless otherwise noted.