Jurassic World: Dominion Dominates Fandom Wikis - The Loop
Play Sound
South America is a continent in Pocket Trains. This article showcases tips, general infomation, and trivia about the continent, real and in the game.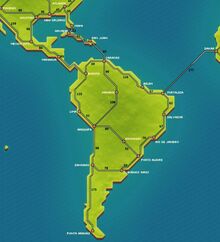 General Infomation
South America is a continent in Pocket Trains, available to be serviced at the purchase of a license. The neighboring continents include Africa and North America, meaning you have to purchase a license for at least one of these continents to see unlocked South American lines and connect South America to Europe via Africa or North America. South America's largest cities include Bogota, Lima, Buenos Aires, Santiago, and Rio de Janiero, although South America's largest city, Sao Paulo, does not exist in Pocket Trains. In the game, important stations include Santiago, Fortaleza, Porto Alegre, Arequipa, and Bogota, due to their capabilities of linking many railroads and continents. Standard trains, Freighter trains, and Zephyr trains are best for this continent, although Express trains with fuel cars would work, too. South American jobs can spawn with thousands of coins to Oceania, Asia, Africa, or Europe, especially in southernly towns. Railroads here can be longer than European or North American ones, as there are only 15 stations in South America. Of them, 6 stations are in the country of Brazil.
Tips/ Strategies
Here is a list of tips and strategies for South America. Feel free to add your own!
Railroads here should probably service at least 5 or 6 cities in South America and up to 9. It's probably ideal to some railroads from other continents have some new South American cities, for example a Central American railroad could service Los Angeles, Houston, Mexico City, Managua, Bogota, Caracas, and Lima. With this, you can easily transport jobs from other lines to North American cities. See Help/Suggestions Page for more info.
STANDARD TRAINS. They are very efficient here, and you probably won't even need fuel cars on these trains. Zephrys and Freighters can also be good, but the Standards will always triumph victorious in speed and fuel capacity in South America (Freighters are very slow and time-consuming to transport cars across the long continent, Zephyrs have too low of a fuel capacity to be the best in South America). Don't take our word for it, read any of the Standards' page (Rio Grande Standard, Gila Standard, San Juan Standard, Pecos Standard) for the facts.
Transcontinental: South America links North America and Africa. Use this to your advantage. Jobs in either continents can spawn with payments of thousands of coins, so it's ideal to link those two continents first in north South America before expanding to south South America.
List of Stations
Here is a list of all South American stations by alphabetical order.
Arequipa

Asuncion

Belem

Bogota

Buenos Aires

Caracas

Fortaleza

Lima

Manaus

Porto Alegre

Punta Arenas

Rio De Janeiro

Salvador

Santiagos