We're Getting Mutants in the MCU - The Loop
Play Sound
For a full list of all Tracks, see the List of All Tracks page.
Tracks connect Stations in Pocket Trains. Each track costs coins to purchase, and for a Train to operate on. Only one train can operate on a track, and some tracks are very long (e.g. Volgograd to Urumqi and Lisbon to New York).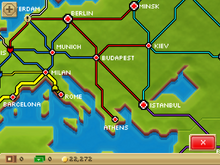 Newly purchased tracks must be claimed by a railroad before trains can operate on them. Tracks with trains on them or about to operate on them will be thicker than regular tracks. Each track has a biome relating to the location of the line (for example, a piece of track in Africa would not have a tundra biome). You can view these only when a train is on the track.
Better and Worse
Each piece of track is different. But, most track lines share many similarities with each other. For example, the tracks that connects Paris and London and Milan and Rome are much the same in length, which is very small. This means that the lines will also cost much the same. Another example is Budapest to Athens and Budapest to Istanbul. It also means that different trains are better on different tracks. A train with high fuel capacity is better on a long line, while a short one means good for speed and high fuel capacity is not necessary. An example is the routes Lisbon-New York and St. Petersburg-Helsinki. A Standard train or an Express with a fuel car is needed for Lisbon-New York, while a high speed train is good for a small line like St. Petersburg-Helsinki. If there is a series of similar sized near each other, this is good so you can pick the right train for the right job.
Trivia
Underwater tracks cost three times as much as tracks built on land for the same distance. Land tracks cost 50 coins per mile.
If you are confused about the frequent word use of "lines", tracks and lines are the same thing.
The shortest track is Boston - New York (19 miles) and the longest is Antananarivo - Perth (426 miles).
Bought tracks can be resold for 10% of the original price they were bought for.