Notice: If you have just entered the wiki, please see our Pocket Trains Wiki Homepage.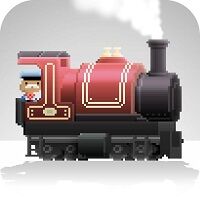 Trains are the primary focus of Pocket Trains. Each train type has distinct statistics that determine its capability: name, engines allowed, fuel cars allowed, carrying capacity, fuel and speed.
There were 27 trains initially released with Pocket Trains. The styles ranged from small steam engines to futuristic high-speed trains.
The contents and value of individual train cars can be toggled by tapping on the train car. Long trains can be scrolled by swiping horizontally on the train.
In the newer updates (late 2019), there are four new Hybrid trains.
Name
Capacity
Table of Trains
Trivia